September 2018
News and recent career opportunities as advertised in our monthly announcement e-mail.


---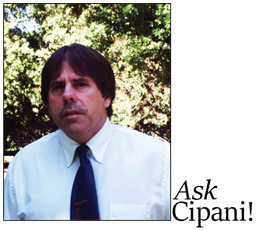 Ask Cipani!
is a new periodic column that addresses a submitted case presentation from a member of the reading audience who wants some suggestions/advice on identifying the function of a particular challenging behavior(s). Two to three written paragraphs of case information (leaving out identifying information and only providing the initials of the submitter) are provided, with Dr. Ennio Cipani's response appearing below. The response addresses the presenting case in terms of possible motivative conditions (EO) and subsequent environmental functions to consider, and possible tests/validation strategies to conduct to verify the putative function. The current case submission is titled, Elopement in School Settings: "Too Many Accidents!"
CLICK HERE to read the submitted case and Dr. Ennio Cipani's analysis!
---
Save this link so you can check out Ask Cipani! anytime:
https://www.behaviordevelopmentsolutions.com/ask-cipani
The current Ask Cipani! page features a teaser of the upcoming case. Please discuss this case on social media to see what your colleagues think about it. Share this with school colleagues and the colleagues at the agency you work at. If you would like to submit your own case for inclusion in a future column, please read the terms of use and then submit your case to:
joel@behaviordevelopmentsolutions.com
---
With 72 workshop options and 100 autism-specific exhibitors (including the
BDS bookstore
), you can customize the conference experience that YOU need. Information and resources reflect individuals of all ages and support needs to benefit caregivers and professionals new to ASD or seeking more advanced content. CE credits include APA, ASHA, BACB, and social work. Sponsorship, exhibiting, and advertising options available. Registration deadline October 1.,
Contact
conference@autismnj.org
or 800.4.AUTISM for assistance.
Click here for more information about the Autism New Jersey Conference
---
The effectiveness of support plans for reducing challenging behavior among people with severe disabilities is heavily dependent on how those plans are carried out by direct service staff. This book describes a step-by-step approach for ensuring support plans are carried out appropriately and effectively.

Relying on their 70 years of combined work experience and over 140 published articles in developmental disabilities, the authors provide tried and tested strategies for enhancing program implementation, including how to prepare program plans to facilitate staff follow through, obtain staff support for the plans, train staff to carry out program procedures, maintain day-to-day staff proficiency in carrying out the plans, and improve non-proficient staff performance. Written specifically for supervisors who oversee staff performance and clinicians who develop support plans, a working protocol of best practices is presented for getting support plans carried out in typical service settings for people who have severe disabilities.

Also Included as part of the Behavior Analysis Applications in Developmental Disabilities Series:

Working with Staff to Overcome Challenging Behavior Among People Who have Severe Disabilities

Preference Based Teaching

Motivating Human Service Staff

The Supervisor's Guidebook

Promoting Happiness Among Adults with Autism and Other Severe Disabilities




Click to Order $150.00

---
Elimination Disorders in Children and Adolescents


The aim of this book is to provide readers with a practical overview of the definitions, characteristics, theories and models, diagnostic and treatment recommendations, and relevant aspects and methods of evidence-based psychosocial treatments for encopresis and enuresis, primarily in children.


The Self and

Match System

This behavioral intervention encourages a collaborative approach to promoting systematic behavioral success for children and young adults using self-monitoring with a match component. Self & Match has been implemented internationally across a variety of settings including: special and general education; home; camp; clinic; public, private, and parochial schools; post-secondary education; and sports programs.




Practical Ethics for Effective Treatment of Autism Spectrum Disorder


The book addresses important topics such as the principles and values that underlie the Behavior Analyst Certification Board's ® Professional and Ethical Compliance Code for Behavior Analysts, and factors that affect ethical decision-making.


Awkward: The Social Dos and Don'ts of Being a Young Adult


This book breaks down family, friends, work, and community social situations to help provide tips on socially acceptable behavior in everyday situations. Each situation includes examples of dos and don'ts to target different perspectives and learning styles.
---
Upcoming Conferences!
---
| | | |
| --- | --- | --- |
| | The Supervisory Training Summer Sale is Almost Over - Last Chance to Save! | |
---
Upcoming Conferences!
*BDS plans to attend